The women of ELCA at Christ Lutheran Church have two circles that meet once a month for Bible Study. Twice a year the circles meet together for a combined bible study, led by the Pastor, followed by a potluck. We have a quilters group that meets the second Wednesday of each month.

General meetings are held four times a year. These meetings are the second Tuesday of January, April, July and October. We invite and encourage all ladies to attend.

Activities or our organization include the Fall Bazaar, serving lunch at funerals, auctions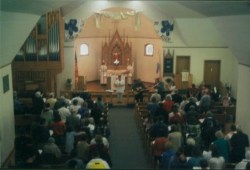 and other events, doing altar care and kitchen cleaning, sold Free Trade coffee, tea, hot chocolate and candy bars for Lutheran World Relief, conduct a clothing drive, host World Day of Prayer. Every year we present a bible to each third grader in Sunday School and to each couple marrying at Christ Lutheran Church.

Health kits, quilts and layettes were delivered to La Crosse for Lutheran World Relief. Delivered to Marie Sandvik Center were quilts, clothing and lap robes and to New Horizons were delivered clothing and household items. Christmas gifts were delivered to Marie Sandvik Center, New Horizons and the Trempealeau County Health Care Center.

In December we made fruit baskets for the shut-ins of our congregation. Members residing out of Arcadia were sent Christmas cards.