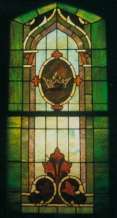 Christ Lutheran Church is a member of the Evangelical Lutheran Church in America (ELCA)
Within the ELCA we are a member of the La Crosse Area Synod
Lutheran Youth Organization, La Crosse Area Synod, ELCA Bridging the gap between church and youth in the La Crosse region. You'll find places to talk with other teens about real-life issues, upcoming events, current music, ways to get involved, and other various topics.

The Lutheran Magazine Exploring our Christian faith through stories that educate, inspire and nurture.

Luther Park Luther Park Bible Camp, a 100 acre site with beautiful views of the sun setting over Prairie Lake, was established in 1932 and continues to be a place where thousands of people, celebrate their Christian faith and life. Luther Park is open year round for Bible Camp, retreats and conferences. It is located a mile and a half north of Chetek, Wisconsin. It is owned and operated by 132 congregations of the Evangelical Lutheran Church in America. ALL ARE WELCOME to attend Luther Park.

Sugar Creek Sugar Creek Bible Camp is an Outdoor Ministry Site of the
Evangelical Lutheran Church of America located in Ferryville, WI.

ELCA World Hunger The ELCA World Hunger Program improves the lives of people in need in the United States and around the world.

Thrivent Financial for Lutherans Thrivent Financial for Lutherans offers a wide range of financial products, from insurance and annuities to investments.

Lutheran Social Services of Wisconsin and Upper Michigan is the social ministry arm of over 800 Evangelical Lutheran Church in America congregations in Wisconsin and Upper Michigan. Our mission is "Motivated by the compassion of Christ, we help people improve the quality of their lives."
Each year, LSS touches the lives of over 100,000 people through a variety of compassionate social services from adoption to counseling to older adult services. Our programs and services are offered to all, regardless of faith.

Food for the Poor Interdenominational Christian ministry created to help the poorest of the poor in the Caribbean and Latin America.

Chileda Institute Committed to the progressive education and personal empowerment of children with developmental disabilities.
---

Arcadia Chamber of Commerce Information for community resources.

Tri-West Community Business listing in the Tri-West service area.

Seven Rivers Regions Regional internet resource guide.